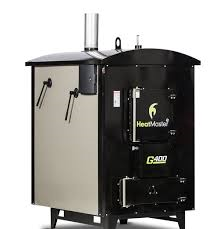 THE G SERIES

FURNACES ARE ALL

EPA PHASE 2 CERTIFIED.

Bill's Outdoor Furnace 12600 State Route 45

Lisbon, Ohio

330-424-0348 TollFree: 877-343-3889
Easy for You

Less cleaning and maintenance: The Easy Clean handle makes cleaning the heat exchange tubes a breeze. No need to brush tubes or scrape creosote, you can load and clean your furnace in 5 minutes!

Stay clean while loading: The Smokeless Loading handle lets you enjoy clean, easy loading. Just pull the handle before opening the door to eliminate smoke coming out at you while loading.

Less wood cutting: These high efficiency furnaces use up to 50% less wood than conventional furnaces, saving you time cutting and loading wood and cleaning ash.

Indoors and outdoors: G Series furnaces are safe and clean enough to be installed in a garage, shop or outbuilding as well.

Easy access hinged rear door – The insulated rear door is built with a unique hinge design which allows for easy access to the rear of the furnace and quick and easy removal of the door if required without the use of tools or hardware.

Safe easy-to-use dual firebox door latch – Our carefully designed latch catches the door so it doesn't swing completely open and expose you to excessive heat.

New for 2017 -We've added a sight glass in the bottom front door that let's you see the fire in the lower combustion chamber without opening the door.