ALL C-SERIES FURNACES COME WITH CAST IRON SHAKER GRATES AND AN ASH PAN FOR EASY MAINTENANCE.
MODELS:
C-150 WILL HEAT UP TO 3,000 SQ. FT. 1 ZONE.
C-250 WILL HEAT 3-5,000 SQ. FT. 2 ZONES
C-375 WILL HEAT UP TO 7500 SQ. FT. 2 ZONES.
C-500 WILL HEAT UP TO 10,000 SQ. FT. 3 ZONES.
C-800 WILL HEAT UP TO 20,000 SQ. FT. 4 ZONES.
PLEASE CALL FOR FURNACE PRICING!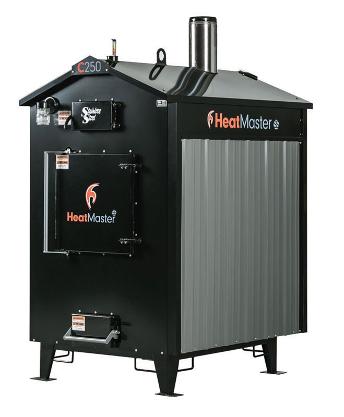 12600 State Route 45, Lisbon, Ohio 44432
330-424-0348
877-343-3889
Call for underground insulated pex pipe prices!
A new design for our outdoor coal furnace, the C Series provides quality workmanship and materials with a design built for performance and efficiency. They work with almost any existing heating system and follow the HeatMasterss standard for quality. Although they are very cost-effective, no shortcuts in quality were made in the production of these units.
Built for Coal, Built to Last
409 Stainless Steel – Titanium enhanced and corrosion resistant, it is the only product that can provide the right blend of longevity, heat transfer and other critical traits that meet the HeatMasterSS standard of excellence.
Heatmasterss warranty – We back each furnace with our best-in-industry Lifetime Limited Warranty which is twice as long as the leading mild steel competitor. It confirms our confidence in our products.
Powder coat finish – Far more durable than paint and environmentally friendly.
Rounded firebox – The rounded design gives the firebox more strength with fewer welds, reducing the risks of cracks and leaks. The deep firebox of the C Series also works particularly well for an outdoor coal furnace.
ISO 9001 Certified – HeatMasterSS furnaces are built to the very highest manufacturing standards, employing top notch design and engineering.
Heavy duty multi-layer insulation
Easy for You
Shaker grates and removable ash pan make cleaning a breeze. Just shake the grates and pull out the ash pan to remove ash.
The forced air fan pushes air through the grates at the bottom of the firebox, ideal for coal burning and fast heat recovery.
Easy access hinged rear door – The insulated rear door is built with a unique hinge design which allows for easy access to the rear of the furnace and quick and easy removal of the door if required without the use of tools or hardware.
Safe easy-to-use dual firebox door latch – Our carefully designed latch catches the door so it doesn't swing completely open and expose the user to excessive heat.
What does it mean for you? A more comfortable outdoor coal burning experience.
High Efficiency
Although the grated design creates a very high firebox temperature, the triple heat exchange pass flue dumps this heat into the water jacket before the exhaust exits the furnace. This reduces fuel consumption by 20-30% and eliminates spark or flame from the chimney. This baffle system was also designed to minimize ash buildup, saving you time and effort.
The C800 model uses a double pass exhaust.